Our favorite way to celebrate Mother's Day is by throwing Mom a beautiful brunch. We'll show you how to throw the perfect Mother's Day brunch with Pampa Bay products! You can spend the day enjoying time with Mom instead of in the kitchen, because cooking, serving and cleaning is quick and easy with Pampa Bay products! Our pieces are freezer to oven to table and dishwasher safe.
Set the Table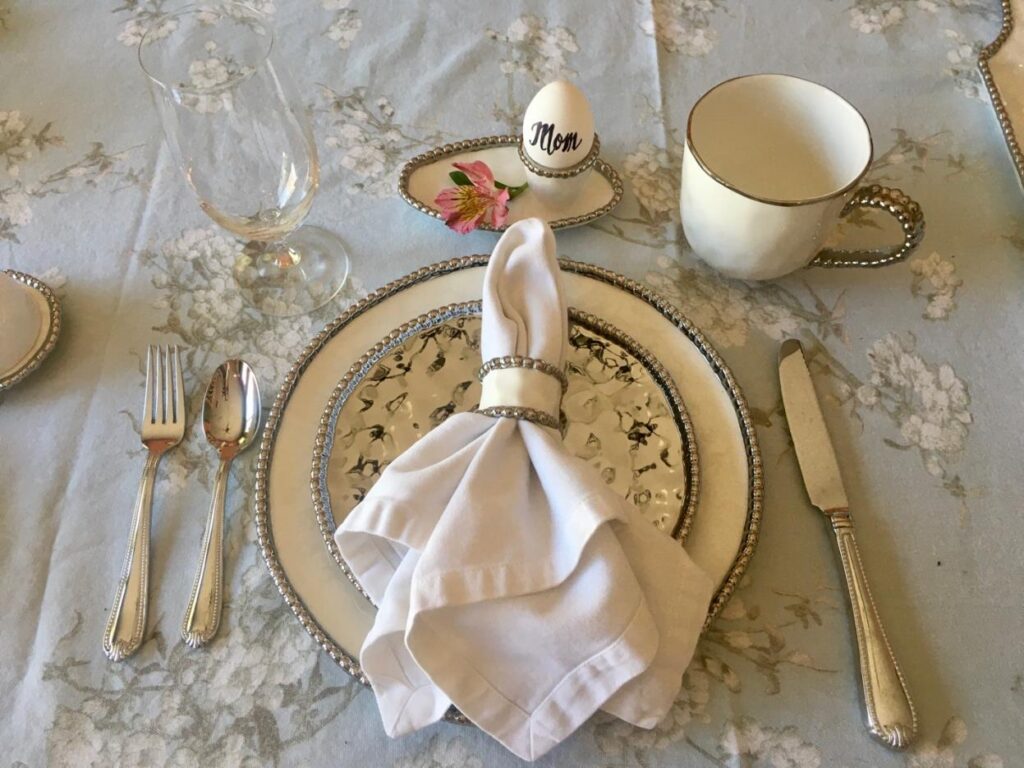 To set the table for our Mother's Day brunch we used a mix of products from our Set the Table and Salerno lines.
Here is everything you'll need: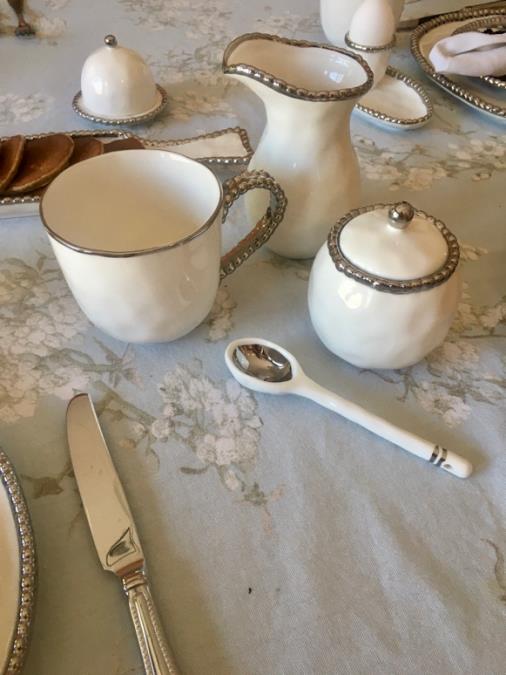 • Set the Table Collection – Stack the silver Salad Plate on top of the white Dinner plate to create an eye-catching display. Clean-up is easy with Pampa Bay products, they're dishwasher safe!

o Round Salad Plate (CER-9003)

o Round Dinner Plate (CER-9004-W)

o Salt & Pepper Shakers (CER-2616-W)

o Creamer/Pitcher (CER-2626-W) – We like to keep two of these on the table. One for milk, one for syrup!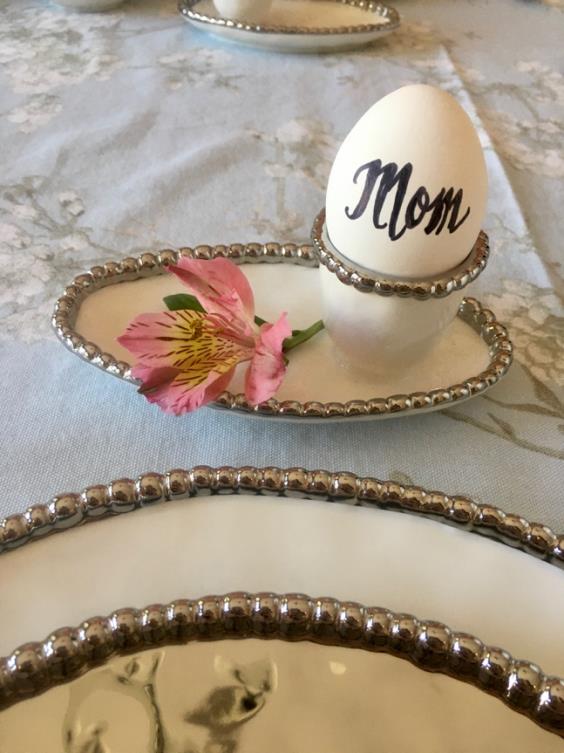 o Sugar Bowl with Lid (CER-2625-W) – Make sure Mom can have her coffee or tea exactly how she likes it by placing this beautiful sugar bowl on the table.

o Single Egg Cup (CER-2617-W) – We used these to create the tastiest place card you'll ever have! Serve the eggs however Mom likes them and add everyone's names.

o Napkin Rings (CER-2575-W) – Add a touch of elegance to your table setting with our napkin rings.

o Round Butter Dish (CER-2618-W) – These butter dishes will elegantly house your butter of choice. We made a honey butter that goes perfectly with pancakes! Just mix some honey in with your butter and smooth into our dish. Since our products are refrigerator safe you can pop the whole dish into the fridge to cool.

o Water Pitcher (CER-2536-W) – Serve water or your favorite juice in style with our Pitcher.

Brunch
We decided to serve pancakes, bacon and avocado toast at our brunch!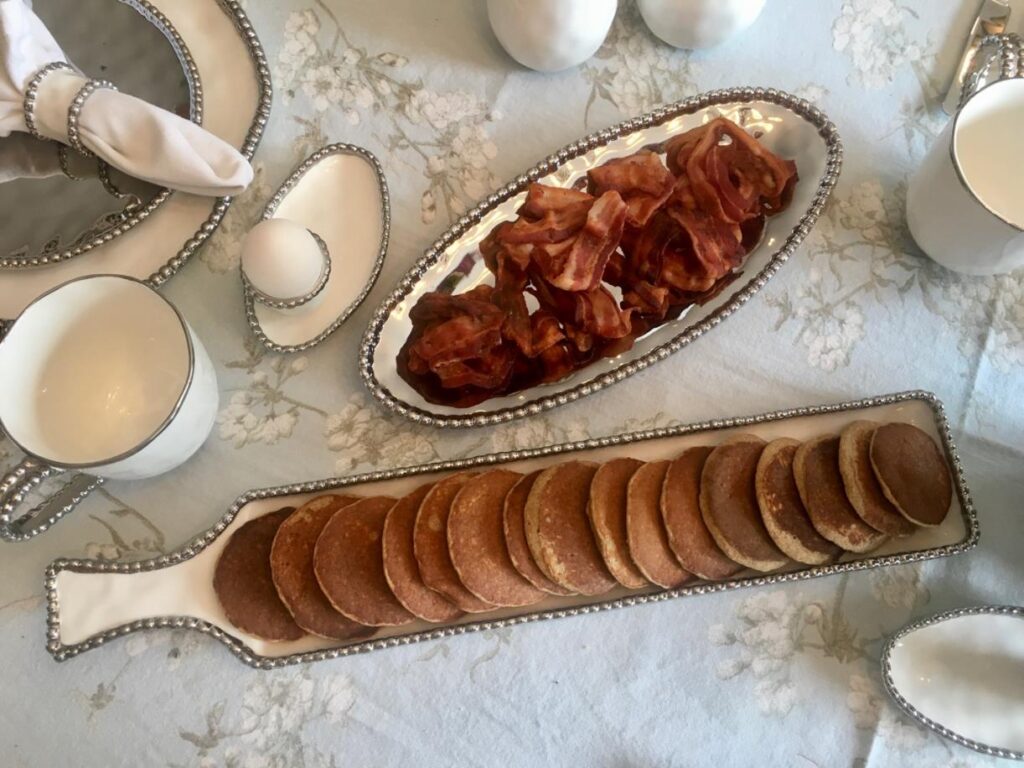 • Pancakes
o We used the Long Slider Tray (CER-2624-W) from the Salerno collection to serve our pancakes! Make your pancakes ahead of time and keep them warm in the oven. Our products are oven safe (up to 350 degrees) and make the perfect transition from oven to table.

• Bacon
o We shaped our bacon into hearts before baking in the oven and then served it beautifully on the Small Oval Serving Piece (CER-2568) from our Verona collection.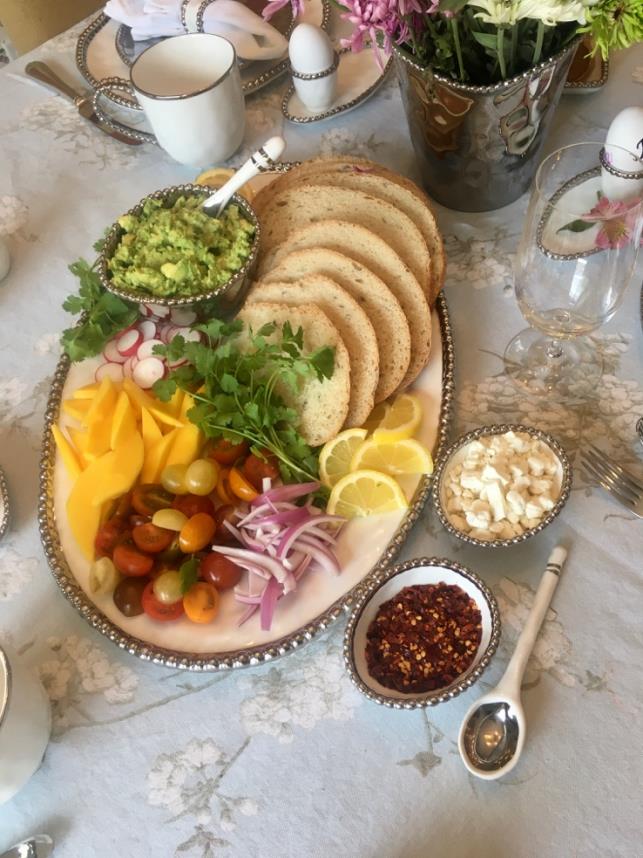 • Avocado Toast Board
o Goodbye cheese board, hello avocado toast board! Our new favorite brunch offering gives diners the chance to craft their perfect piece of avocado toast. We sliced up our favorite toppings and served them on our Large Oval Serving Piece (CER-1723-W) from the Salerno collection. Included on our board is rosemary bread, red onion, lemon, cherry tomatoes, mango, radish and cilantro. We smashed the avocado for easy spreading and put it in the Small Bowl (CER-1137) from the Verona collection. Top your avocado toast with a sprinkling of red pepper flakes and goat cheese, served up perfectly in our Oval Condiment Bowls (CER-2538) from the Salerno collection.

Mom-osa Bar
Brunch and mimosas are the perfect pair! We turned our counter in the perfect Mom-osa Bar featuring some refreshments as well as some sweet treats!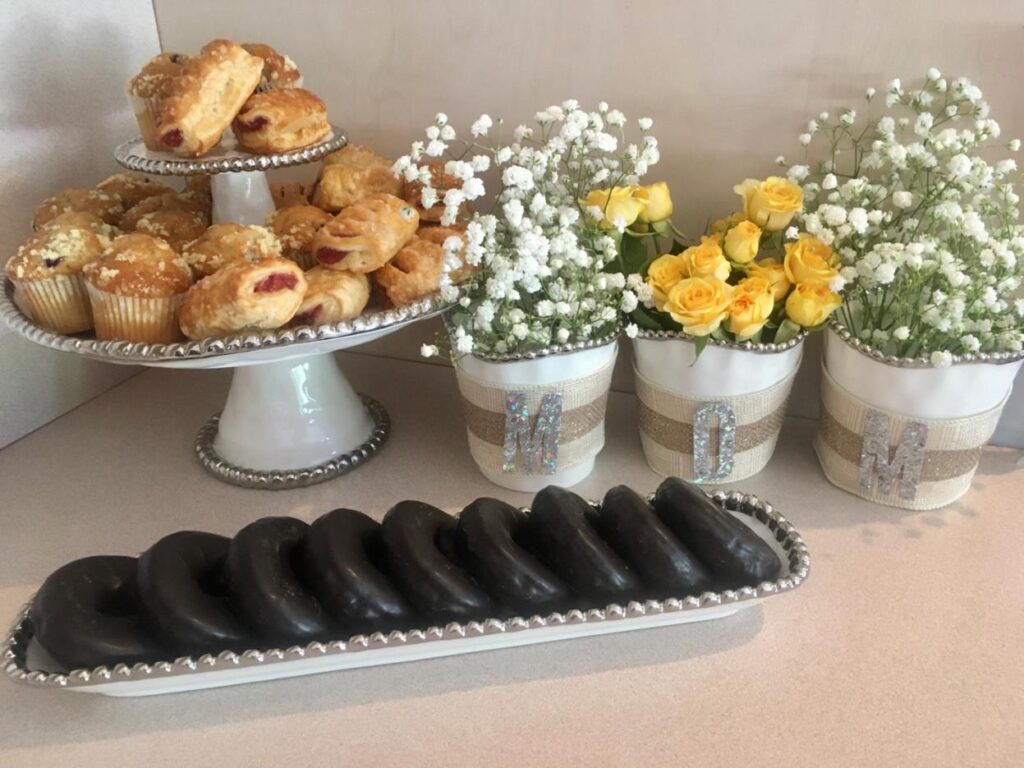 Sweets
• We made a tiered sweets platter by stacking the Pedestal Cupcake Stand (CER-2256-W) on top of the Round Cake Stand (CER-1196-W) both from our Salerno line! Add dimension and elegance to your bar by using this pairing.

• The Cracker Tray (CER-1150-W) from the Salerno collection is the perfect size for displaying a delicious grouping of mini doughnuts! Pick Mom's favorite and line them up in our Cracker Tray to serve in style.

• We decorated our Mom-osa Bar with three of our Small Cachepots (CER-2511-W) from the Salerno line which we covered with ribbon and added letter stickers to spelling out Mom and then filled them with some beautiful blooms!

Bar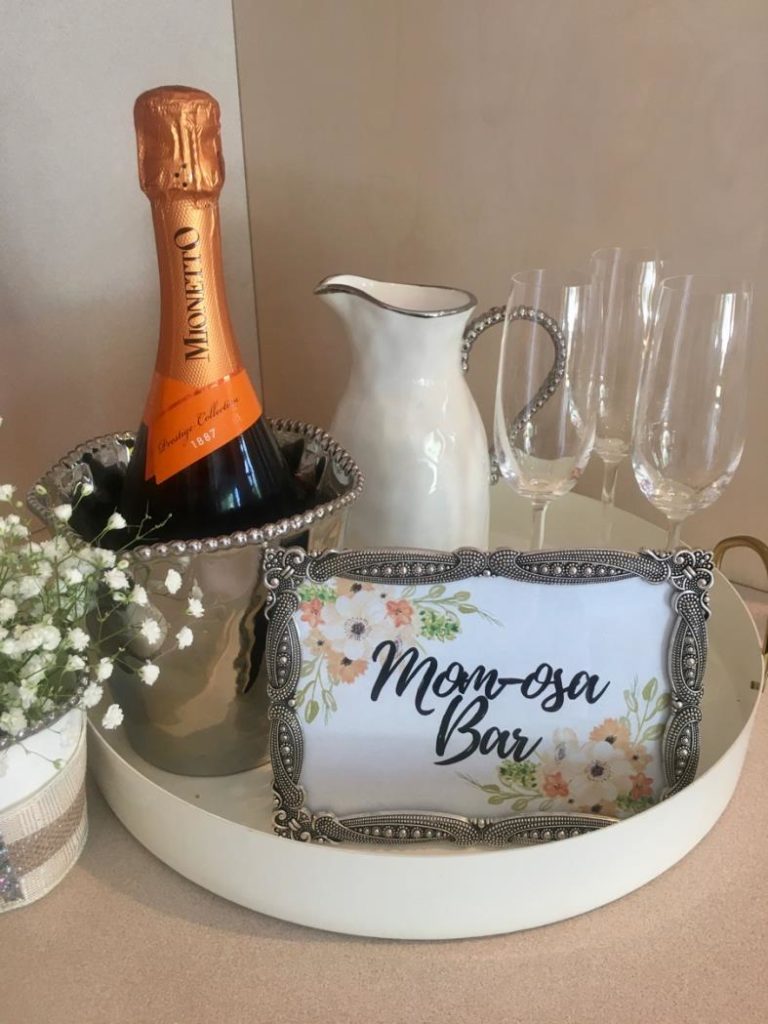 • We kept our champagne cold using our Large Cachepot (CER-2513) from our Verona line. Fill the cachepot up with ice and stick in the freeze to keep cold. Our products are freezer safe!

• We used the Water Pitcher (CER-2536-W) from our Salerno line to elegantly serve orange juice. Though we also love to use mango or passion fruit juice! Chill the pitcher in the fridge to keep the juice cold.